A friend of ours gave us some home grown parsnips. I wanted to make something nice with them and not just a roasted side dish. As the nights are getting colder, I thought a nice Parsnip Soup would be perfect.
To give it that little extra taste I was going to use a little curry powder. I do however have a big thing for Paprika at the moment. I decided to replace the curry powder with smoked paprika, yummy!
Parsnips are a perfect vegetable, there is almost no fat, cholesterol and has no sodium. They also help with raising energy and lowering blood pressure because of the minerals and vitamins it contains.
I personally think this is one of my favourite soups and not just because of the parsnip. It has a nice smoky kick when you first taste it. Straight after the initial kick you get the sweet taste of the parsnips. The two flavours to me seem to fit perfectly together.
Parsnip soup is very easy to make and doesn't take too long. It's all done in one saucepan as well so really saves on the washing up!
How To Make Parsnip Soup
In a large saucepan add the oil and butter and leave this for a few minutes on a medium heat to melt. Whilst this was melting I chopped an onion and 3 garlic cloves. Drop these into the melted butter and give it a good stir.
I find it's important to make sure the oil/butter has coated all of the onions. These should be left to cook for 10 minutes until the onions were soft. Make sure to stir every so often though so none of the onions burn.
I then added the vegetable stock and the milk and gave this a good stir. Add the peeled/chopped parsnips with a pinch of salt and pepper and give it a good stir. Let this cook until the parsnip is cooked and a knife can go through.
NOTE: Don't worry if you think the milk is curdling or separating from the oil. When you use the blender it will mix it all together.
Pre-heat a oven at roughly 180 degrees.
Whilst the parsnip soup is cooking get another parsnip and peel the skin away.
Using a peeler, peel lengths of the parsnip to form parsnip crisps. Spray an oven tray with fry-light and place the parsnip crisps on with a little gap between each one. Spray some more fry-light on the top and sprinkle with salt.
Alternatively you could also put oil over them if you don't have/don't use fry-light.
Pop in the oven and cook until brown and crispy.
Once the parsnips in the soup are soft.
Take the soup off the heat and with a hand blender, blend until smooth. You could use a food processor if you don't have a hand blender.
Put back on the heat and add the paprika. Give it all a good stir so you can make sure all of the paprika has been stirred into the parsnip soup. If you don't like things with too much of a kick, add the paprika gradually. Taste the soup and if you can handle more, add a little more.
Spoon the paprika parsnip soup into your bowls. Sprinkle a little paprika and then top with your parsnip crisps.
Get some nice fresh bread and enjoy!
Like I said this has got to be one of my favourite soup recipes and would recommend giving it a go.
Let me know what you think in the comment below. If you do like the recipe please do share with your friends!
I appreciate it!
Print
Paprika Parsnip Soup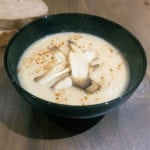 This paprika parsnip soup makes the perfect soup for the winter months. The parsnips give it a nice sweet flavour, where the paprika gives it a nice kick to warm you up.
Prep Time:

5 minutes

Cook Time:

30 minutes

Total Time:

35 minutes

Yield:

4

People

1

x
Category:

Soup

Cuisine:

English, Starter
Scale
Ingredients
1

glug oil

30 grams

unsalted butter

1

whole Onion (finely chopped)

3

cloves garlic (chopped)

1

litre of Vegetable stock

500

ml milk

7

Parsnips

2 tsp

smoked paprika
Pinch Salt & Pepper
Instructions
In a saucepan heat the oil and butter until the butter has melted
Add the onions and garlic and stir
Cook until the onions are soft and translucent
Pour in the vegetable stop and the milk, stir to combine
Chop 6 of the parsnips into 1 inch pieces and put into the saucepan
Cook until the parsnips are soft
Peel the remaining Parsnip into crisps and place on a tray
Sprinkle with salt and put into a pre-heated oven at 180 degrees.
Cook the parsnip crisps until brown and crispy
Remove crisps from the oven and place on the side to cool
Once parsnips in the soup are soft, use a hand blender and blend until smooth.
Season with salt and pepper
Add 2 tsp of smoky paprika and stir until all fully mixed in
Spoon soup into bowls and sprinkle paprika on the top
Garnish with the parsnip crisps and serve
Notes
Don't worry if you think the milk is curdling or separating from the oil. When you use the blender it will mix it all together.