Slimming World Cottage Pie Recipe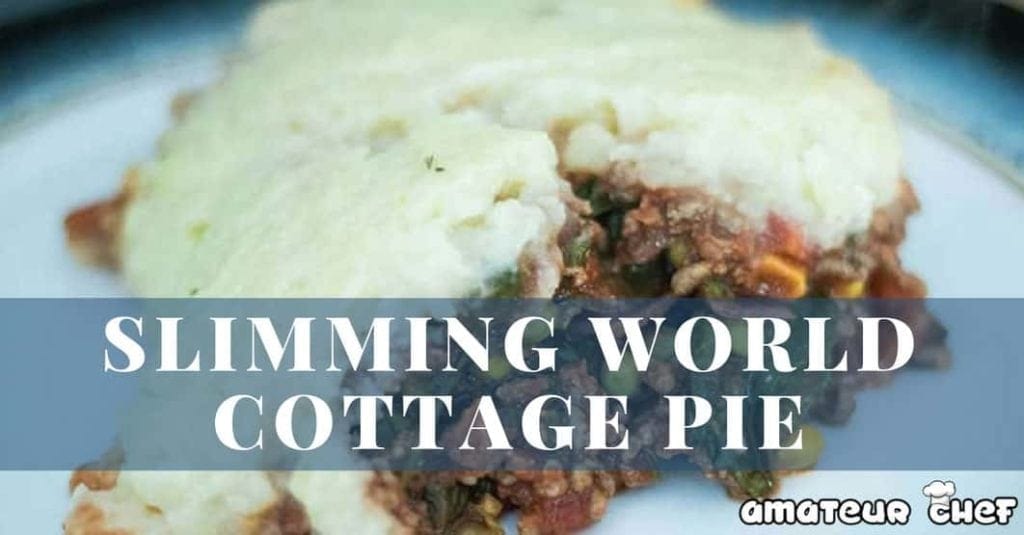 This Slimming World Cottage Pie recipe is a little different to your traditional cottage pie, as it has a lot more ingredients. Typically it contains just onion and beef as filling; however this features celery, carrots, peas, sweetcorn, and spinach.
​The recipe was inspired by Slimming Worlds version, without the additional fillings. Making it low fat and healthy cottage pie but still jam-packed full of flavor. Perfect for anyone whether you are looking to lose weight or not!
How To Make ​Slimming World Cottage Pie
The first thing that needs to be done is to create the mashed potato, and this is because it can take awhile for the potato to become soft. Peel the potatoes and cut them in half or quarter, this would depend on how big the potatoes are. Put the potato into salted water and allow to heat up.
Once the potatoes are cooked, you will want to drain the water and pour in the fat-free Greek yogurt. This yogurt is used instead of milk and butter to help keep the calories down. Mash the potato until it is smooth and lump free.
Preheat your oven to 200 degrees.
While the potatoes are cooking you can start the filling of the cottage pie, as mentioned above this recipe features a lot of additional ingredients, so it does take a little longer. (Believe me, it's worth it!)
In a large saucepan or wok, spray a few sprays of fry-light and heat on medium heat. Add the chopped garlic and onions. (I used red onion but can be replaced with white onions. You want to stir this, so they get coated slightly with the fry-light, let this cook for 5-10 minutes until the onions are soft.
You then want to add the minced beef, for this, you want to make sure it is 5% fat or less. This means its lean beef and therefore low in fat. When you add the beef, you want to stir it up to help break it up. Continue to stir the beef until it has browned.
I add the carrots and celery next, and this is because they take longer to cook. I do like the carrots to have a bit of crunch, but you want to ensure they are cooked properly. Mix the celery and carrots into the beef and allow to cook for 10 minutes.
I love the combination of peas and sweetcorn, and they go very well together. In the past, I have just added peas to my cottage pie recipe, but I find the sweet corn helps to give it a little extra sweetness. Add both of these into the mixture and give it a good stir to ensure fully spread out. I use frozen peas and sweetcorn, so they don't take long to cook. Allow this to simmer for another 10 minutes.
Probably one of the most unusual ingredients to add to cottage pie, spinach is a great addition. It adds a slightly different texture, some additional color but also comes with a lot of health benefits. The spinach is roughly chopped and then added to the mixture, and this will wilt down.
Sprinkle the herbs over the mixture and then add the can of chopped tomatoes, passata and tomato puree. Give everything a good mix, and you will feel the mixture become slightly thicker. Leave this to cook for 10 minutes, continue to stir, and you will feel it get a little thicker. If you prefer it even thicker, then add some additional tomato puree.
Empty the mixture into an ovenproof dish, press down with a wooden spoon to ensure fully pressed down. Spoon the mashed potato on the top, add some in each corner and then in the center. (This will make it easier to spread the mash)
Grate some low-fat cheese over the top, and this again will help keep the fat content and the calories down. Make sure all of the mash is covered with the cheese and cook in the oven until the top has gone golden brown.
Print
Slimming World Cottage Pie
Cottage Pie comfort food with this Slimming World cottage pie recipe, it is even healthier. With additional ingredients peas and sweetcorn its even better.
Author:
Prep Time:

5 Minutes

Cook Time:

45 Minutes

Total Time:

50 Minutes

Yield:

4

1

x
Scale
Ingredients
500g

Lean Beef Mince

1

Onion
Handful of Spinach

2

Garlic Cloves

100g

Frozen Peas

100g

Frozen Sweetcorn

1

Can Chopped Tomatoes

3 tbsp

Tomato Puree

200g

Pasatta

2 tbsp

Mixed Spice

1

kg Potatoes

200g

Fat Free Greek Yogurt

150g

Low Fat Cheese
Instructions
Peel and cut potatoes into halves or quarters depending on their size. Put into a saucepan and cover with water. Place on the heat and cook until soft and a fork can pass straight through.
In a large pan spray fry-light and put in chopped garlic and red onion (or white if you prefer) Cook until onions are soft and translucent.
Put in the minced beef and cook until browned
A​dd the chopped carrots and sliced celery, stir it all and bake for 10 minutes.​
Stir the peas and sweetcorn into the mixture and allow to cook for an additional 10 minutes
Roughly chop the spinach and stir this into the mixture
Add the can of chopped tomato, passata and tomato puree, mix all of it with herbs and spices.
Leave to cook for an additional 10 minutes
Preheat oven at 200 degrees
D​rain the potatoes and add fat-free Greek yogurt and mash down into a smooth mashed potato.
Spoon the mixture into an ovenproof dish, spread the mashed potato over the top and sprinkle low-fat cheese over the top
Put it into the oven and cook until the top browns
Nutrition
Serving Size:

1

Calories:

454

Sugar:

6.8g

Sodium:

385mg

Fat:

8.4g

Saturated Fat:

1.9g

Carbohydrates:

60.4g

Fiber:

10.5g

Protein:

33.4g

Cholesterol:

8mg
Hi, my name is Martyn and I consider myself an Amateur Chef. I love everything about food and this was the main reason I started this blog, to showcase that passion. I started this blog in 2014 with an aim to showcase tasty recipes, and useful cooking tips and tricks.