Do The Unthinkable – MuscleFood Review
If you have been following my blog, you will know I like my food. (who doesn't!) In my early twenties I was always fairly slim, now I am in my early thirties I have started to put on a bit more weight than I'd like.
Over the past few months, I have been thinking more about what I have been eating and also doing some different types of exercises. I still like the odd naughty dinner but other than that I do try to eat fairly healthily.
​I have ordered meat from Muscle Food before due to the high protein and low-fat content foods. They did, however, contact me about their Do The Unthinkable program, and I thought it would be an excellent opportunity to give it a go.
What is the Do The Unthinkable System?
One of the hard things about losing weight or building muscle is getting the exercise and the diet right. Many people do the exercise but struggle to get the diet right, whereas others may eat healthily but may not burn enough calories to drop the weight.
​Do The Unthinkable is a complete food and workout system, helping you to transform your body. Most meal plans will provide you with advice on what to eat, and Muscle Food send you the food to match the meal plan. You select what breakfast, lunch, dinner, and snacks you want.
As well as receiving the food you will also receive a 90-day workout plan, and this plan will help you not only to burn calories but also help with promoting lean muscle growth. The workouts are all done using the body such as press ups and lunges, so you don't need to go to the gym if you don't want to. (I don't have the time to go to the gym)
​​Muscle Food has gotten more and more popular over the past couple of years. They focus on providing low fat but high protein meat, all of which is of high quality and delivered fresh to your door. All of the meat is sourced from farms that have a good reputation, ensuring the meat is both grass and grain fed. Initially, they started by just providing meats, but over the years they also provide other foods such as high protein bread and pizza.​
​They were developed to try and help those that are health conscious in reaching their goals. Since the meat is all lean and low in fat, Muscle Food is often recommended in weight management groups such as Slimming World.
Muscle Food Unboxing Video
I thought it would be nice to record a video of me opening my box and showing you exactly what I received.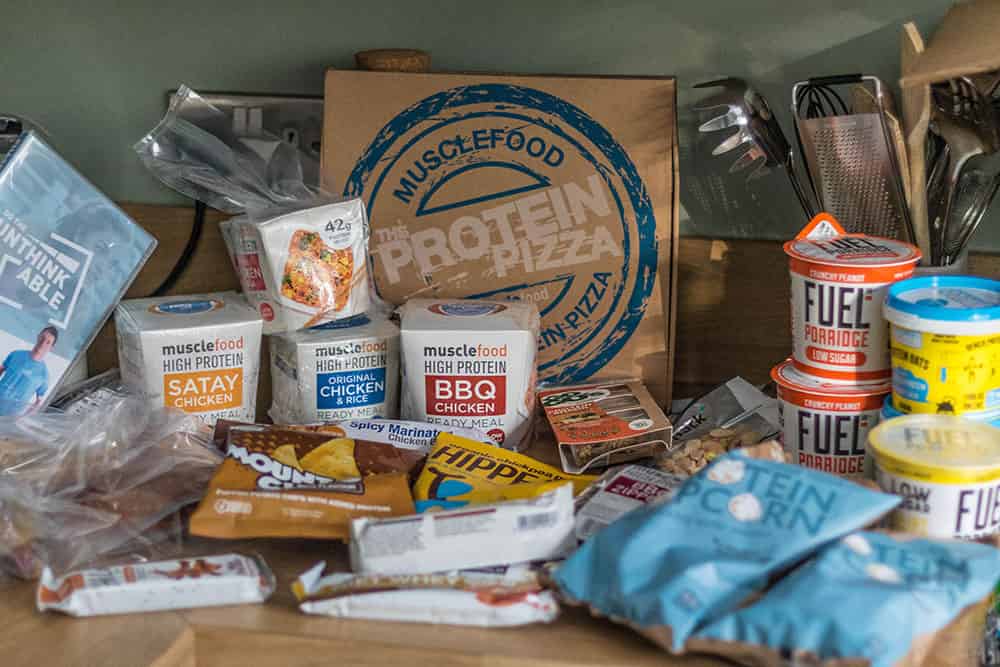 ​Joining this system is very easy, you add details about yourself such as size/weight and then what your goal is. The next step requests that you select your meals and then pick a date of delivery.
I instantly received confirmation of the meals I had chosen via email and then gained access to the members' area. This gave me instant access to the workout routines, meaning I could get started before my meals had been delivered.
When you join Do The Unthinkable, you get to choose whether you want to receive five days, s​ix days or ​seven days worth of meals. I decided to go for the 5 days, below I have listed what I received and what I thought about them.
Now I didn't usually have breakfast, but I have been trying to eat them more since breakfast is said to be the most important meal of the day. I go to work fairly early so don't have time for breakfast at home, these pots are perfect as I just took them to work and add water.
Taste wise they are very good, the flavorings were good. Sometimes with these kinds of breakfasts, you cannot taste the flavours, but these were good, I liked the crunchy peanut ones. They are not as sweet as normal porridge, but that is understandable since you want them to be low in sugar to be healthier.
With lunch, at work, I would typically have sandwiches, crisps, and sweets (I have a real sweet tooth). Do The Unthinkable is a great way for me to try and break this bad habit. I selected four rice post and one of the protein pizzas. The great thing about the rice pots is that they can be cooked in the microwave, perfect for when I'm at work. Out of the rice pots, I liked the BBQ, and the tikka, the chicken alone I felt was a little bland but still edible.
I really liked the protein pizza, which is something I am surprised about as I thought it would be tasteless. It is a little smaller than how I usually have my pizza, but I suppose the idea is to get the portion sizes down a little.
Even though these meals were for dinner, I pre-cook these and take them to work for lunch. In the evening Rach and I have the same meals, and I only had a single portion of these. We have been trying to try a lot of low-fat meals and following a Slimming World kind of diet, so I know my evening meals are still low in fat
(Although I do have a cheat weekend, as I like to try different meals that might not be low fat)
All of the meat was very good, it was a good size, and I did notice the chicken didn't let out as much water as some of the supermarket chicken does. All of the vegetables that came with the meals were also very fresh, when cooked they tasted very good and had a nice crunch to them.
I also found the seasoning to be very good. I love Fajitas, and the chicken fajita stir fry was delicious. All of the dishes had full cooking instructions, making them very quick and easy to make.
Now comes to the snacks, there were so many! I got a total of 15 different snacks, which gave me 3 per day. I am guilty of snacking a lot, and the problem is this is normally sweets or crisps, which is not ideal.
I have not eaten all of the snacks yet, but the ones I have had have been delicious. I enjoyed the popcorn, and even the puffs and mountain chips tasted like actual crisps, without the guilty feeling.
​I also received three protein bars, and I decided not to pick as many bars as normally I don't like them. They are often either very heavy or taste or protein powder, I regret not getting more now. The bars tasted very nice, and I could eat the caramel bar again and again!
​What Are The Features/Benefits?
When I first opened the delivery, I saw this folder, and it was jam-packed full of recipes. I have had deliveries of food boxes in the past, and they only provide you with the recipes for the meals they include. Providing a folder that has so many excellent and healthy recipes is of great value, even if you decide not to continue with the boxes you still have access to these recipes.
I like the recipes they provide because they are set out on glossy cards with hi-resolution images, but are also very simple to follow. The folder is a collection of recipes from nutritionists, personal trainers, and even health bloggers.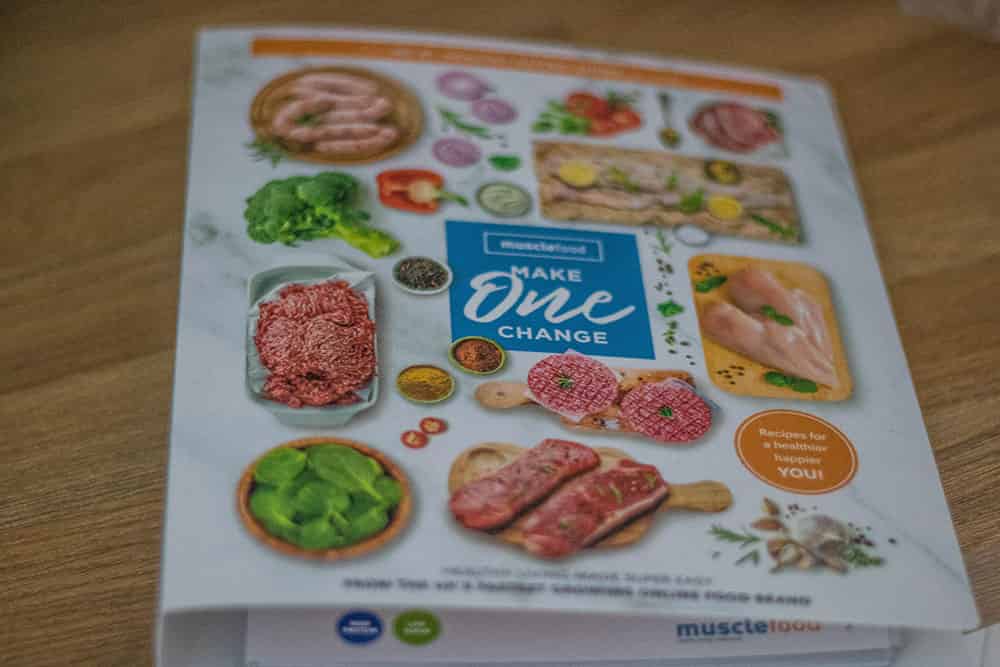 I love lists and tend to live a lot of my life with calendars, planning days or weeks at a time. Something is satisfying about ticking off a task. With the delivery is a 90-day poster which helps you keep track of your workouts and on what day you should do them, it also shows what days you should not do any exercise.
Looking at the selection of meals that you can pick when you sign up for your box, you should never get bored. This is great as I know some meal plans can be a little boring when it comes with the choices, which is one of the reasons why I and probably many other people have struggled to stick to them.
Since Do The Unthinkable from Muscle Food has such a wide selection, you shouldn't get bored of your meals!
Meals Delivered Right To Your Door
Once you have made your food selection, you then pick a delivery slot. They will deliver your box of lovely food straight to your door, whether at home or work.
Online Access To Workout Routines
With the delivery you do get a DVD with the first set of workout exercises, you can then log in to the online member's area to access all of the exercises. The great thing about this is that you can access the workouts whenever you want and wherever you are.
​​​​​​Access To Qualifed Personal Trainers​​​​​
​Getting advice and training from personal trainers can be expensive if you go to the gym. With this program, you can get support and advice from personal trainers and nutritionists, who are on hand to help you hit your goals.
There are not many other programs if any that provide meal plans based on your goals provide a complete workout plan and also the delivery of your three meals and the fresh food to complete your dietary needs.
The cost does depend on whether you go for five days, seven days or 10 days worth of meals. Regardless of which one you pick, you will get access to the Do The Unthinkable training program. With the training program, you get the workout exercises, meal plans, fitness tracker and more.
The price of this does range from £60-£80 per week, which on a per meal basis is around £1.90. This is much cheaper than most ready meals from the supermarket.
So what are my final thoughts on the Unthinkable program from Muscle Food? Overall I am pleased with what I received and with the entire system. You might look at the price and think £60 is a lot, BUT you do have to bear in mind that you are getting five breakfasts, five lunches, five dinners, and 15 snacks, let alone an entire workout program.
The quality of the food was really good, it all came fresh, and this meant that I could pop it in the freezer. I also thought that the portion size for one person was pretty good, sometimes these meal boxes you tend to get smaller portions.
I would, however, say that if you were ordering for more than one person, it might be a little bit more expensive. It would be better if you could order more servings at a discounted price. Although you could go for the 10-day plan and split it, this would be cheaper than going for multiple orders.
Would I order again? I think I probably would, if not the plan id certainly orders from Muscle Food again as the service and the food quality was excellent. As I mentioned before, I wouldn't stick to the meal plan completely as I do like to try different recipes for me to post on this blog.
​If you are looking to lose weight and/or build lean muscle, I would recommend giving it a go! If you have any questions at all about The Do The Unthinkable System or Muscle Food, please feel free to post in the comments and I'll try and answer.