Scallops, Strawberry Salsa and Chocolate Sauce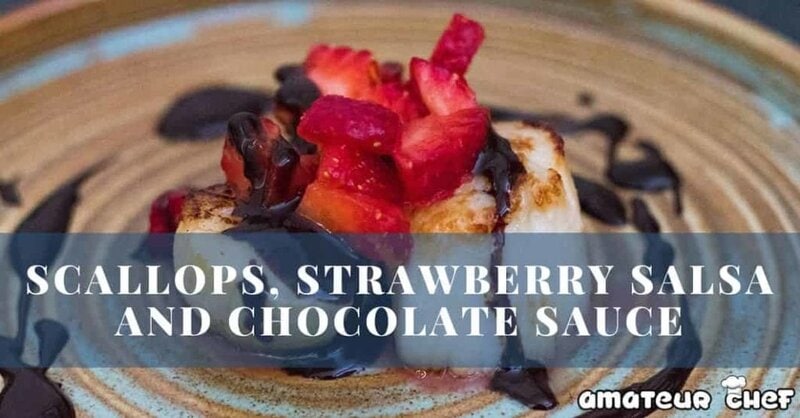 Scallops, Strawberry Salsa and Chocolate Sauce, sounds crazy right? It really does work! I love testing new things and trying to develop my own recipes and even though this dish has received mixed comments, it does actually taste really nice.
Scallops and Strawberries is a god flavour combination, based on research done. 
As we know chocolate and strawberries is an amazing combination, so naturally you would think the three would work well combined together.
​This recipe makes a very tasty and interesting appetizer, something to really shock and hopefully impress your dinner guests.
How To Make Scallops, Strawberry Salsa & Chocolate Sauce
I love to watch programs like Masterchef, the dishes they make are incredible. When trying out a tasting menu at a restaurant, I am always inspired by the dishes. I was making Rach a 3-course dinner and one of my go-to appetizers is scallops, so thought I'd do a scallop dish.
With it being summer and having some fresh strawberries from the garden, I wanted to do something with them. Strawberries and scallops are meant to make a good pairing so thought a nice sweet sales would work well. The additional of the lemon juice and zest helps give it a little zing so it's not overly sweet.
Now for the sauce, this is probably what most people think strange about this recipe, it does, however, work well. Chocolate goes well with strawberries and dark chocolate also pairs well with scallops, so seems like a good combination. The bitterness of the dark chocolate helps to offset the sweetness too.
The first thing you want to do is the salsa, as this can be made and left to one side whilst you do the rest of the dish. In a bowl, you want to place the chopped strawberries and grate over the zest from half a lemon. In order to give the strawberries a little zing so they are not overly sweet, you want to add the juice from 1 lemon. This will also help to keep the strawberries red and fresh. Give it all a good mix together, cover and leave to one side.
Now onto the sauce! As mentioned before, probably the most unusual part of the dish. I know it might not sound it but it does work well, I think because of the bitterness of the dark chocolate and the addition of the balsamic. In a small saucepan heat up the balsamic vinegar and Worcester sauce. You want to heat it until it begins to simmer, once it does take it off the heat and add in the chocolate.
Since the liquid is warm it will melt the chocolate, continue stirring until all the chocolate has melted and it becomes smooth.
Finally, you want to cook the scallops if you have never cooked scallops before, check out this guide. Heat up a glug of oil in a saucepan and once hot, place the seasoned scallops and cook for a couple of minutes. Add a bit of butter and then flip the scallops and cook on the other side for 1-2 minutes. The scallops should now be nice and cooked but not overcooked and be nice and caramelized.
On a plate, you want to place 3 scallops, spoon on the strawberry salsa on top of the scallops. Finally, you want to drizzle the dark chocolate sauce over the strawberry salsa and around the plate, less is more so don't cover the scallops but keep some to one side in case you want a little more.
Print
Scallops, Strawberry Salsa and Chocolate Sauce
​I know what you might think of the recipe title, Scallops, Strawberries AND Chocolate?! The strawberries gives it a hint of sweetness, whereas the dark chocolate ads a little bitterness. ​This recipe makes a very tasty and interesting appetizer, something to really shock and hopefully impress your dinner guests.
Author:
Prep Time:

2 Minutes

Cook Time:

8 Minutes

Total Time:

10 Minutes

Yield:

2

People

1

x
Category:

Appetizer
Scale
Ingredients
6

Scallops

4

strawberries finely chopped

½

Lemon Zest
Juice from

1

Lemon

20g

Dark chocolate (70% Cocoa)

4 tbsp

Balsamic Vinegar

1 tbsp

Worchester Sauce
Instructions
In a bowl mix together the chopped strawberries, zest of ½ a lemon and the juice of 1 Lemon. Set aside until later
In a saucepan heat the Balsamic Vinegar and Worchester Sauce until it simmers.
Take off the heat and stir in the chocolate until it has fully melted and is smooth.
Add a dash of oil into a saucepan.
Season the scallops and place into the saucepan for two minutes.
Add some butter and then flip the scallops and cook for an additional 2 minutes.
TO SERVE: Position 3 scallops onto a plate, top with a spoon of strawberry salsa and drizzle on the chocolate sauce
Nutrition
Serving Size:

1

Calories:

185

Sugar:

12.2g

Sodium:

161mg

Fat:

3.9g

Saturated Fat:

2.2g

Carbohydrates:

20.2g

Fiber:

2g

Protein:

16.7g

Cholesterol:

32mg
Keywords: Scallops, Strawberries, Dark Chocolate
Hi, my name is Martyn and I consider myself an Amateur Chef. I love everything about food and this was the main reason I started this blog, to showcase that passion. I started this blog in 2014 with an aim to showcase tasty recipes, and useful cooking tips and tricks.