Learn How To Cook Scallops Easily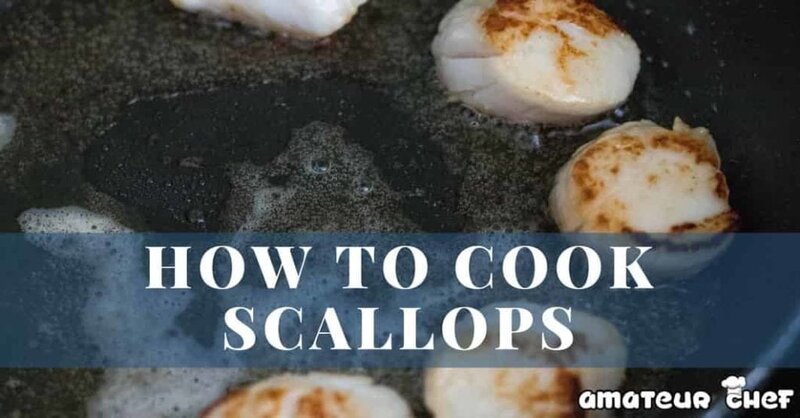 Have you always wanted to learn how to cook scallops? This "How To" guide will take you step by step. Follow these simply steps and you will be able to make perfect scallops everytime
Scallops are typically known to be somewhat expensive, and I often get them for one scallop for around £1.50+. I don't, therefore, have them every week, but they do make an excellent treat when making a romantic meal or when entertaining friends.
Scallops are a shellfish that are found in cold water, and they are known to be sweet and juicy. In terms of nutrition, they are fairly high in protein but are also low in calories. They are also said to contain a good amount of nutrients such as Omega 3, magnesium and potassium. There are two typical types, king and queen scallops. They are named this based on their size, with king scallops being the bigger of the two.
There is a myth that scallops are more complicated to cook than they are, this could be due to programs such as Hell's Kitchen. You can almost guarantee that every week someone will have scallops returned for either being undercooked or being too rubbery. In reality, they are not that hard, and you need to make sure that they are not overcooked, as they do tend to cook pretty quickly.
​By the end of this guide, you will have learned how to cook scallops.
​What To Look For When Buying Scallops?
The scallops that you get are the first step in being able to cook tasty scallops, and sometimes you need to spend more to get better quality. To me, it is VERY important that you buy hand-caught diver scallops instead of dredging, as these are more sustainable(1) and keep the seabeds from being damaged.
You will no doubt see scallops in supermarkets, and these will normally be cheaper, although I would recommend buying them from a fishmonger. You may find some cheaper scallops weigh more, but that is because they are soaked in water to help increase their weight, these should be avoided.
Like with all seafood, you should buy it fresh. If it smells fishy, then you should not buy it as this is a good indication that it has gone bad.
Before I get into how to cook scallops, let's go over the best way of preparing them. As wrong preparation will result in ruined scallops, getting it right is key to cooking perfect scallops.
Fresh scallops will often come with the roe, and this is the orange part. Even though this part is edible, most people do remove it. You can do this easily by just taking it off with your fingers, and this will often also help remove the brown part that goes around the entire scallop.
Give the scallops a quick rinse as this will help remove any grit.
To cook the perfect scallop, you need to remove excess water, and you can do this by patting it dry with some kitchen towel. Once dry, season with some salt and pepper. Drying the scallop and seasoning will help to give that crust on the outside.
As mentioned before, many people do shy away from learning how to cook scallops, as they do believe it is too hard and complicated. Since they are not the cheapest ingredient, it's only natural that you don't want to waste it.
Below are five simple steps to cooking perfect scallops. (This method has worked every time for me!)
Step One: Get The Pan Hot
The first step after the scallops have been prepared, is to get the pan hot. When pan-frying (which I feel is the best type of way to cook scallops), you want to use an oil that has a high smoke point. I would recommend grapeseed, safflower or extra virgin olive oil.
Step Two: Place The Scallops In The Pan
Once the oil is hot drop the scallops. Position them as though they are hands on a clock, the first one goes at the top middle as though at 12, the next at 1, then at 2 and so on. This way you know straight away which one has been in the longest.
After a minute, I always add a bit of butter to the pan. I find this adds a nice creamy flavor, and this is completely optional. You want to cook on this side for 2 minutes.
Step Four: Flip The Scallops
After two minutes flip the scallops and cook on the other side for between 1-2 minutes. The scallops should not be mushy when you touch as this means they are undercooked. You want to aim for a springy texture, and firm is overcooked.
Step F​ive: ​Remove The Scallops
Take the scallops off the heat and allow to drain on kitchen towel. They should be caramelized on the outside and then a slight translucent center. If you followed the above steps, then you should have cooked the perfect scallop!
​I hope you have found this how to cook scallops guide useful, below are some excellent scallop recipes to get you started! Please share this guide if you found it helpful and please comment if you have any questions or want to tell me how you got on with cooking scallops.
Jump to Recipe·Print Recipe I love scallops and to be honest think they make the most perfect starters, something about them I just find to
Read More »