The 9 Best Pestle and Mortar Sets in 2020 [UPDATED]
Want to grind down your herbs and spices to create a paste or seasoning powder? Find the best pestle and mortar sets, as well as learn how to use it. As well as recommended sets, below you will also find a guide on how to find the best ones for you and also how to look after them so they last.
​The Pestle and Mortar come in two parts, the mortar which is made from wood, metal, ceramic, marble or granite. Ingredients are placed in the Mortar and then you use the Pestle to crush or grind them into powder or a fine paste. Interestingly they have been around since ancient times, in fact, the earliest one found dated 35,000 BC.
It is possible to buy many herbs and spices that are already ground or use a food processor. There are however subtle flavours that come from spices that are hand ground, giving your food that little bit extra. As an example, if you make a curry and use store-bought curry paste, a handmade curry paste that you have ground will taste 10 times better.
You will often find that a decent quality pestle and mortar will function better than a food processor, as they are easier to use, more convenient and a lot easier to clean. I also love the way they look on my kitchen worktop.
​Below you will find the best pestle and mortars, as well as a complete guide on the uses, as well as covering what you should look for when deciding to buy a set. At the bottom of the guide, you will find detailed reviews, helping you to find one that is right for you and your needs.
Best Pestle and Mortar 2020
Below are the most recommended sets, click on the name for more information…
Before picking the set you want, you need to think about what you will be using it for. If you cook for a family then you are going to want a bigger one, or else the ingredients will spill out. Although if you are just using it for yourself, a smaller one would be fine.
The finish of the mortar and pestle is just as important as everything else. You want one that has a pebble or matte finish, as this creates friction so much easier to grip when crushing/grinding. You may find this finish is not covering the mortar but on the well of the mortar and the bottom of the pestle.
Finally, the price is something that you need to consider, luckily most sets are reasonably priced and you can get a great quality one for under £20. I would recommend not spending under £10 as you will often find its made from lesser quality materials and therefore more chance of it breaking. At the same time, you don't need to spend over the odds to get a very good quality product.
There are 3 different types of materials, each one has its pros and its cons. Knowing the different materials will help you to decide which type is best to use.
1. Stone Pestle and Mortar
Typically stone sets are more effective and the recommended option, although a little more expensive. These are often made from either granite or marble. They are great for withstanding a high amount of pressure when grinding and due to the matte pebble surface there is plenty of friction to help grind the ingredients fully. Since they are made from stone, they are heavier so you will find them to be much more stable.
2. Wooden Pestle and Mortar
Wood is often one of the more popular types that people buy, although not always the best option. Many people buy these because they look good on their worktop and are more for the visual look than the actual use. These types tend to be too lightweight and therefore cannot be used for heavy duty grinding.
3. Clay and Porcelain Pestle and Mortar
Clay and Porcelain are also very common, often because of the way they look. They look great in a cottage looking kitchen. Clay is fragile, which means you cannot crush the herbs and spices with too much force. The same is said for porcelain but it's a little more lightweight, so more risk of breakages.
4. Stainless Steel Pestle and Mortar
Steel is naturally going to be able to withstand high amounts of pressure, therefore less chance of breakages. Some kind is a little lightweight so they move often, however, they also tend to have smooth surfaces which means ingredients tend to slip out more.
It might seem obvious but it's important to clean your ​plestle and mortar properly, if you clean them incorrectly then this could result in damage. Below is information on how you should properly clean them, depending on the material.
The cleaning of Stone, Wood and Clay sets are not as easy as others, as you shouldn't use soap. These sets take in the flavour of the soap which will impact on the taste of your powders and pastes.
Instead, you should just rinse them with warm water and make sure to dry them fully, as leaving water could damage the wood. You should never completely submerge them in water. In order to fully clean any bacteria, rub lemon juice in and leave for a couple of minutes and then rinse off with water.
These two are different from those above, these can be washed by using soap or placing in a dishwasher.
How To Use Mortar and Pestle?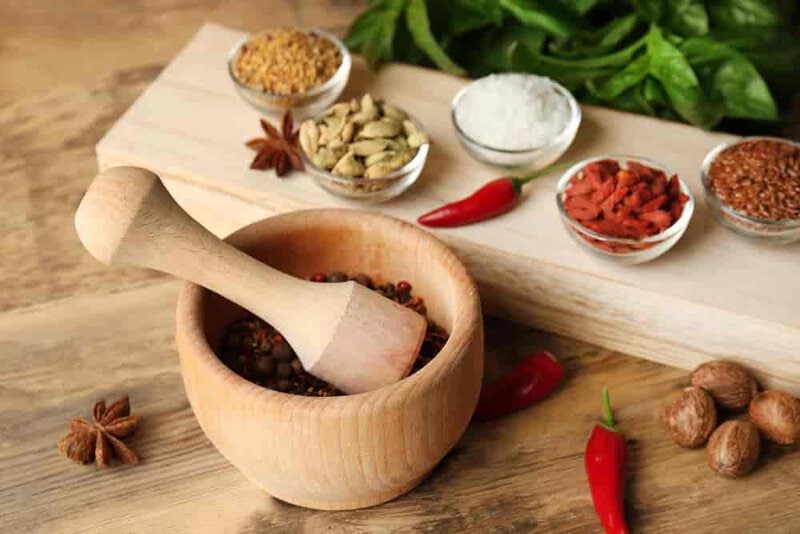 If you are looking to grind down spices into a powder or paste, A pestle and mortar are what you want. You might think it's just a case of bashing down on the herbs, but there is a bit more to it. There are different techniques to be used on different spices or for a different texture.
What can you actually grind down though?
Common ingredients that you will use a mortar and pestle set include;
Many people make the mistake of making the paste or powder when they have already started cooking. This will naturally result in rushing to make it and potentially burning what is already cooking. You should, therefore, look through the recipe and make any powders or pastes beforehand.
First of all, add the ingredients into the mortar and begin to grind them down, if you are making a lot then you may need to add additional ingredients once some have been ground down. You should never fill it more than 1/3rd up or you will find it hard to fully grind.
It's important to hold the mortar steady, place one hand around the base. With the second hand, you should hold the pestle, twist it onto the ingredients so that it presses them against the inside of the mortar. You want to continue grinding until all of the ingredients have been ground up evenly to your desired texture.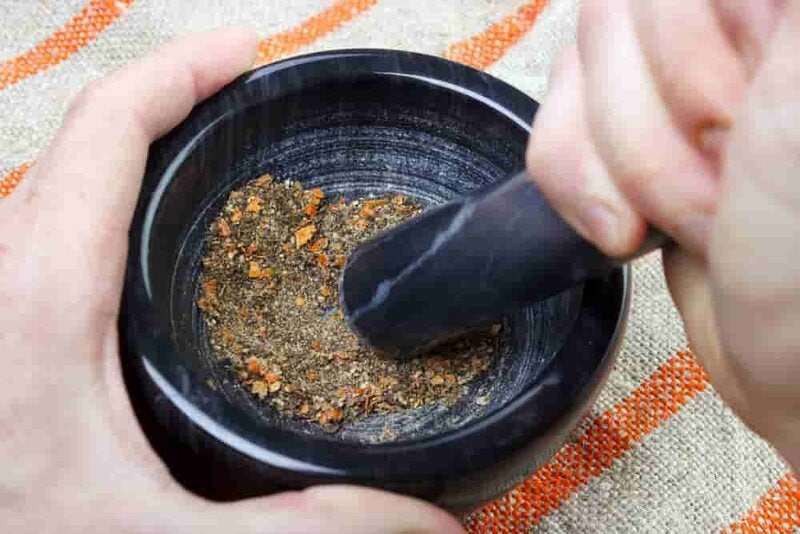 There are 3 techniques for using a Pestle and Mortar, the method you use would depend on the outcome you want.
When you grind the ingredients, the aim is to grind them down into a powder. You would simply rotate the pestle over the ingredients in a circular motion. Continue with this movement until you get the consistency you want, IE Coarse or Fine.
With this technique, you are basically bashing the pestle down onto the ingredients. You would normally use this method on large seeds, spices or even nuts. Depending on how hard they are, you may need to initial grind them a little and then bash them.
Crushing is very similar to grinding but instead of doing a circular motion, you want to simply roll the pestle over the ingredients. Usually, the result will be that the ingredients are half intact so they have split or burst, instead of being ground.
There you have it, by now you should know everything you need to know about Pestle and Mortar sets. I hope this guide has helped and answered any unasked questions that you may have had.
Personally, I would recommend going for a decent sized granite set, one that comes with a mortar that is easy to hold and remains sturdy on your kitchen worktop. At first, it might be a pain not being able to pop it in the dishwasher, but I do think the better flavour you get from your herbs and spices it will be worth it!
​Please let me know in the comments below if you have any comments or any questions.